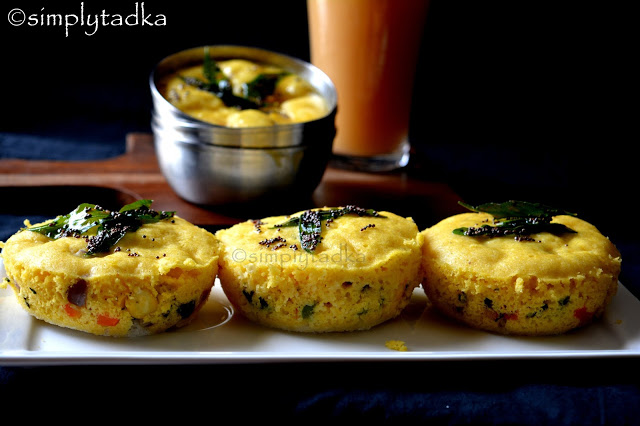 Last Updated on
Dhokla is steamed savory cake which made with
gram flour, it's a soft, spongy and tangy flavored recipe. Dhokla is staple
food in Gujarati Cuisine, without dhokla Gujarati thali is incomplete. This time
I tried new version of dhokla in my kitchen.
For this recipe, you have to cut the bread slices
into disc form and serve the dhokla on the top of bread as a snack. It's a
healthy meal includes mixed vegetables, bread slice and dhokla which serve with
Indian dip.
Veggie Bread Dhokla | How
to Cook Vegetable Bread Dhokla
Preparation
time: 10 Minutes
Cooking
Time: 15 Minutes
Servings: 6 Pieces
Category:
Snacks
Cuisine:
Indian
Ingredients:
6 Bread Slices
1 Cup Mixed vegetables (Carrots, capsicum,
corn, onion), Chopped
Dhokla
Batter ingredients:
1 Cup Gram Flour/ Besan
2 Tbsps. Semolina/ Sooji
Salt to taste
1/2 Lemon Juice
1 Tsp. Sugar
1/2 Tsp. Eno
Water, for running batter
Tempering
Ingredients:
1 Tsp. Oil
2 Tsp. Mustrad Seeds
Handful Curry Leaves
1/2 Lemon Juice
1/4 Tsp. Salt
1 Tsp. Sugar
1/2 Cup Water
Instructions:
Mix all the ingredients of batter in large
bowl and keep aside.
Heat the oil in tempering pan, add mustard
seeds and curry leaves.
When they start splutter, add water, salt,
sugar and lemon juice.
Boil it for few minutes and keep aside to cool at room temp.
Cut the bread slices into round form using cookie cutter.
Now grease the bowl with little oil or butter.
Place the bread slice in each bowl.
Arrange the chop vegetable in layer on the top of bread.
Pour the dhokla batter in each bowl and place in steamer.
Steam it for 15- 18 minutes and garnish with
tempering.
Serve with ketchup or Indian chutney.
Tags:
bread dhokla recipe, dhokla, vegetable dhokla, Gujarati cuisine, snacks,
starters, steamed food, steam recipe, flour recipe, vegetarian recipes, simply
tadka recipe, bread recipe, tiffin recipe, lunchbox recipe, breakfast recipe,
healthy recipe, instant recipe, steam recipe.
Enter your email address:
Delivered by FeedBurner