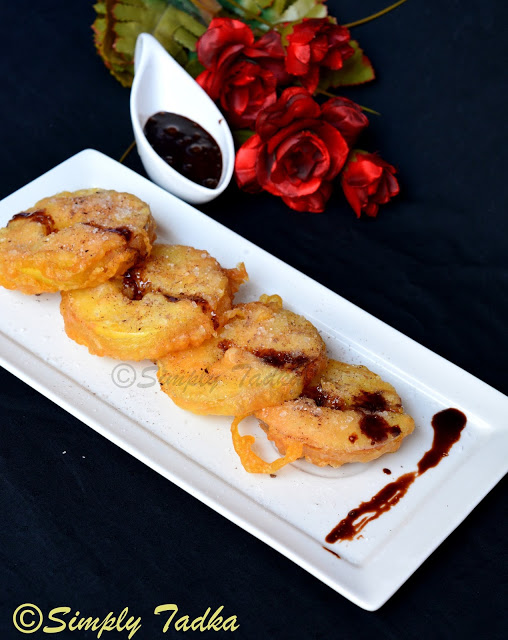 Last Updated on
Apple fritters can be served as a dessert or
as a finger snacks with chocolate syrup as a great combo. It is easy to make
and need few ingredients for this recipe. Even you can prepare fritters with
other seasonal fruits like green apple, pineapple, bananas, and pears.
For apple fritters, you have to dip the apple
slices in a batter and deep fried till to golden crisp and serve with chocolate
syrup. Serve immediately after preparation. If you are egg eater, then you can
whisk the egg into batter for tastier snacks but it's an eggless recipe. Even you
can serve this crisp golden fritters with vanilla ice-cream or chilled custard
pudding.
I prepared Eggless Apple Fritters with
Chocolate Sauce recipe for Mega Blogging Marathon#56 hosted by Srivalli under
the International Combo theme.
Preparation
Time: 10 Minutes
Cooking
Time: 15 Minutes
Servings: 2
Category:
Snacks
Ingredients:
2 Red Apples
1/2 Cup Plain Flour
Pinch of Baking Soda
Pinch of salt
1/2 Tsp. Cinnamon Powder
1 Tbsp. Icing Sugar
1 Tbsp. Lemon Juice
Oil, for deep frying
Chocolate Sauce as a dip
Instructions:
Heat the sufficient oil in kadhai on medium
flame. Toss the apple slices with lemon juice and keep aside.
Combine flour, baking soda, salt and pinch of
cinnamon powder in a bowl and mix well.
Add 1 Cup of water to make a smooth batter of
coating consistency. Keep aside.
Dip a slice of apples one by one and deep fry
in oil till to turn golden in color and cook well. Drain on kitchen papers.
Sprinkle cinnamon powder and sugar over them
and serve hot with chocolate syrup.
Notes: You can use milk instead of water.
You can use other fruit also like pears,
pineapple and banana etc for fruit fritters.
Tags:
how to make apple fritters, apple recipes, fritter recipes, apple ke pakore,
fried apples, chocolate sauce, fusion recipes, snacks, starters, sweet recipe,
eggless recipe, eggless apple fritters, desserts.
Check out the Blogging Marathon page for the other Blogging Marathoners doing BM# 56
Enter your email address:
Delivered by FeedBurner